Tonight the British Association of Bingo Balls (BABB) are looking for two men in relation to a shocking discovery at a local bingo hall in Brighouse.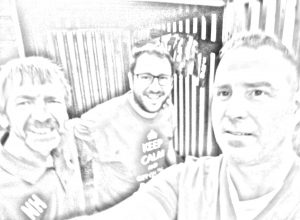 Unsuspecting players were distraught when they found the bingo game to be rigged with no possibility of victory due to some very underhand ball manipulation.  The two men, sketched here with a currently unknown man whom BABB beleive to be the criminal mastermind behind the plot, remain on the run with a selection of balls numbered 76 and above and the winning prizes (a tub of lollipops).
A BABB spokeperson said "the men behind the plot have spent years developing their ball skills, and we suspect it has all been leading up to this shocking event."
Brian, a local who entered the bingo competition said "My dreams have been filled with lollipops lately, and I had a good feeling I would win one this time.  The whole thing left me in tears, and I'm not sure I will ever be able to enter a game of bingo ever again…  I am gutted, I just wanted a lollipop…  It's not fair…"
BABB discourage anyone coming into contact with the men from entering any form of bingo related activity for their own safety.