Carr Green Playing Field, Carr Green Lane, Rastrick, HD6 3LT
PARKING
We respect our neighbours, so we ask all visitors to be respectful of our neighbours too. Do not block peoples driveways, park close to street corners, or park in a manner that would cause difficulty for anyone in the local area.
When visiting Rastrick Junior FC  there are two parking areas at your disposal:
Carr Green Lane, HD6 3LT
Please DO park on the Cemetery side of Carr Green Lane.
Please

DO NOT

park in the Cemetery or the Tennis Club.
Please

DO NOT

pars on the school side of the road.
Please

DO NOT

park between No Parking cones.
Please

DO NOT

obstruct the gates. The gates are for emergency access to the playing fields.  An ambulance must be able to access the fields at all times.
IT COULD BE YOUR CHILD OR LIVED ONE WHO NEEDS HELP.
The Police are aware of our parking measures, parking fines are frequent, and vehicles will be towed away if rules are not followed.
Chapel Croft, HD6 3NA
Please DO use the Health Centre car park which is indicated on the map with a yellow box.
Please

DO NOT

park on the path or the grass.
Please

DO NOT

use or obstruct the resident car parking on Chapel Croft.
The route from the car park to the playing fields is marked with a green line.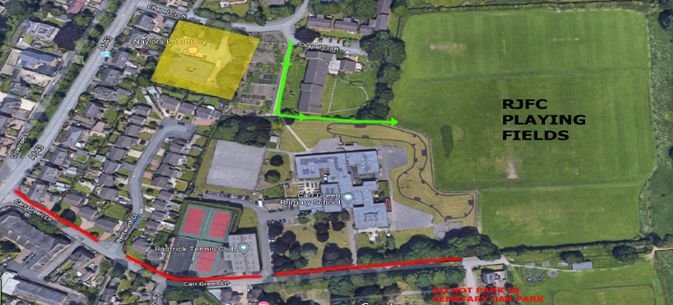 DOG FRIENDLY
We are dog friendly, but please bear in mind the number of kids and footballs bouncing around on match days.  If you bring your dog, be prepared to keep them on their lead throughout, and don't forget your poop bags!
DEFIBRILLATOR LOCATION
SCA (Sudden Cardiac Arrests) can happen to anyone, at any time.  The following steps give someone the best chance of survival. If you come across someone in cardiac arrest:
Call 999
Start CPR
Ask someone to get the nearest defibrillator
Turn on the defibrillator and follow its instructions
The nearest defibrillator is located across from the school entrance / tennis club, as shown here on this image.
You probably walk past it as you enter our fields from Carr Green Lane.  Please take a moment to look for it, and remember its location.
Remember, you need to call 999 to gain access to it.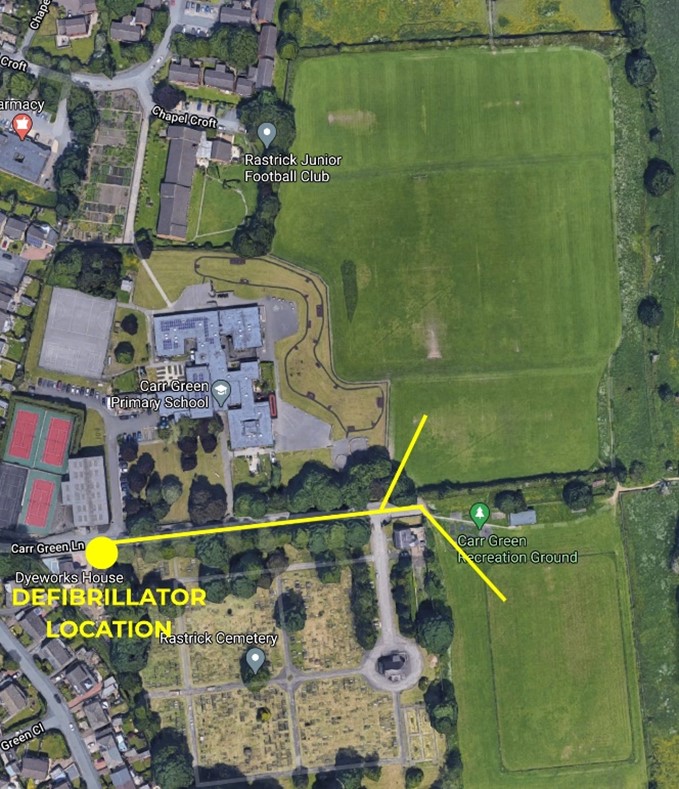 PITCH LOCATIONS
Find out which pitch you are using before you visit.  Ask your Manager or Coach ahead of the game.